You can buy this item even if you don't yet have an Osta.ee user account
Registered letter:

Abi

3.45 EUR
Courier: 6.80 EUR
Item condition:
new
Location:
Tallinn, Harjumaa, Eesti
Quantity:
62
Delivery time:
3 days
Shipping/Delivery:

DPD Pickup locker/parcel shop

1.94 EUR

Campaign

Abi

(XS)

Registered letter:

3.45 EUR

Abi


Courier:

6.80 EUR



Return:
I agree to take back the item within 14 days, if it is not suitable for the buyer. Buyer pays all shipping costs. Item must be unused and in original packaging with tags

Abi

Payment:
by bank transfer, by transfer from Osta.ee e-account
Seller:
Balti-Tuleohutus100% / 353 / view user's e-store
FireAngel Thermoptek Suitsuandur Vaigistusnupuga 10a
 Professionaalne FireAngeli Thermoptek suitsuandur töötab uusima optilise kaugseire tehnoloogiaga, samuti ei pea enam muretsema patareide vahetamise pärast, sest patarei on 10 aastase kestvusega.

Selle anduri sensor tuvastab igasuguse põlengu, olgu selleks siis aeglaselt hõõguv või kiirelt põlev tulekolle.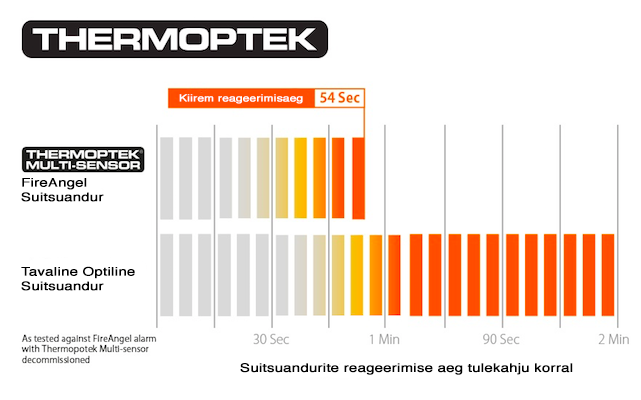 Andur vastab oma tehnoloogialt tuleohutus standardite kõige kõrgemale tasemele. Anduri sensor on Toast Proof mis vähendab valehäireid kuni 90% (toiduaurud, veeaurud, tolm ja putukad ei aja andurit nii lihtsalt häiresse). Suitsuanduril on suur toite ja häire kontrollnupp, lisaks on suitsuanduril vaigistusnupp, mida vajutades suitsuandur vaikib kümneks minutiks. Kui selgub, et tegemist oli valehäirega ja tulekahju tegelikult ei ole, läheb suitsuandur automaatselt 10 minuti möödudes tavarežiimile tagasi. Kui ruumis on ikka suitsu, annab andur uuesti häiresignaali, kuid kui suits on likvideeritud, jääb seade valveasendisse. Anduril on 10 aastane sisseehitatud patarei, enam ei ole vaja muretseda patareide vahetamise pärast. Anduri sensorite eluiga on kuni 10 aastat. 
Andur on varustatud sleep easy funktsiooniga ehk kui anduri patarei saab 10 aasta möödudes tühjaks, pahatihti juhtub see just öösel, ning andur hakkab andma iga 40 sekundi tagant helisignaali informeerimaks, et on aeg vahetada patarei, vajutades sel hetkel testnupule vaikib patarei tühjaks saamise märguanne kaheksaks tunniks ning saate rahus oma und edasi nautida, samas andur kaitseb teid edasi.
FireAngel on Inglismaa juhtiv suitsuandurite tootja. UK päästeamet kasutab ja soovitab FireAngeli tooteid.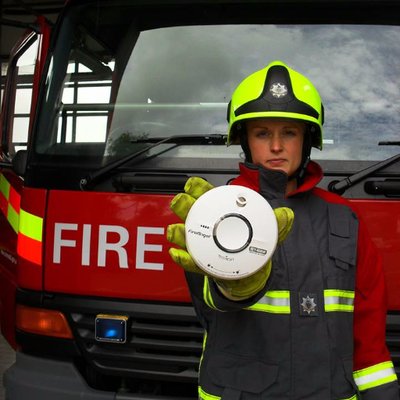 | | |
| --- | --- |
| EN Standard | 14604 |
| Garantii | 10 aastat |
| Kasutusjuhend | Jah |
| Kruvid / tüüblid (kinnitamiseks) | Jah |
| Patarei (vahetatav) | Ei |
| Sisseehitatud aku | Jah |
| Test nupp | Jah |
| Vaigistusnupp | Jah |
| Värvus | Valge  |
Kuidas paigaldada?
Järgi paigaldamisjuhendit. Igal suitsuanduril on kaasas eestikeelne juhend, mis annab ainuõiget informatsiooni konkreetse mudeli paigaldamise kohta. See paber tasub alles jätta, kuna sisaldab ka muud vajalikku infot – näiteks müüja kontaktandmeid.
Karbis on kõik vajalikud osad. Karbis on tavaliselt anduri alus, aluse kinnitamiseks kruvid tüüblid, andur ise ja patarei. Patarei tuleks enne andurisse pistmist kilest lahti võtta ja seejärel õigete klemmidega ühendada.
Leia paigaldamiseks sobivaim koht. Patareiga ühendatud suitsuandur tuleb paigaldada lakke, võimalikult toa keskele. Seal avastab see tulekahju kõige kiiremini olenemata tulekolde asukohast ruumis. Kaugus seintest, lampidest ja ventilatsiooniavadest peaks olema vähemalt 50 cm.
Paigalda alus õigesti. Kui õige koht on välja valitud paigalda kruvide ja tüüblitega alus. Kahepoolne teip ei pea reeglina anduri raskusele vastu ja see kukub alla.
Vajuta kindlasti testnuppu. Peale anduri paigaldamist tuleb alati vajutada testnuppu ja veenduda, et kostab häiresignaal. See näitab, et patarei annab korralikult ühendust ja andur on töökorras. 
Balti Tuleohutus OÜ e-pood suitsuandur.ee 
Kauba saadame Omniva või SmartPostiga, järeletulemisega ainult hulgikogused.
Questions to seller
Only answered questions are visible to all users.
Please log in to ask questions
login