Auction is ended or not active
Auction is ended or not active
Final price:

768.00

EUR

Extending closure:
5 minutes
Starting time:
Tue 02.03.2021 21:00:00
Closing time:
Mon 08.03.2021 21:29:39
Viewed:
1788
Last bidder:
kolmer kv
Tallinn, Harjumaa, Harjumaa, Eesti
| | |
| --- | --- |
| Item condition: | new |
| Location: | Tallinn, Harjumaa, Harjumaa, Eesti |
| Quantity: | 1 |
| Payment: | in cash, by deposit transfer, by transfer from Osta.ee e-account |
| Seller: | sinu2499.6% / 34560 / view user's e-store |
LG 38WK95C 38-tolline 21:9 Curved monitor
38 "21: 9 WQHD + (3840x1600) IPS-ekraan
HDR 10
sRGB 99%
C-tüüpi USB
3-külgne praktiliselt ääristeta disain
Kallutatav / reguleeritav kõrgus
KINDRAL
Suurus (toll / cm) 37,5 "/ 95,25cm kõver
Paneeli tüüp IPS
Värvigamma (CIE1931) sRGB 99% (tüüp)
Värvisügavus (värvide arv) 10bit (8bit + FRC), 1,07B
Piksli samm (mm) 0,229 x 0,229
Resolutsioon 3840 x 1600
Heledus (tüüp) 300 (tüüpiline), 240 (min) cd / m2
HDR (kõrge dünaamiline ulatus) HDR10
Kontrastsuse suhe (originaal) 1000: 1 (tüüp)
(DFC) Mega
(GTG) 5 ms (kõrge)
Vaatenurk (CR ≥10) 178/178
PISTIKU SISEND / VÄLJUND
HDMI Jah (ver2.0, 2ea)
DisplayPort Jah (ver. 1.2 (HDR-tugi), 1a)
C-tüüpi USB Jah
Kõrvaklappide väljund Jah
USB allavool Jah (USB3.0 2ea)
RÄÄGIJA
Heliväljund (vatt) Kõlar 10W * 2 Bluetoothiga
Heli häälestamine Rikas Bass
WQHD + ekraani eraldusvõime
Wide Quad High Definition + * (WQHD +) eraldusvõime on hämmastava pildikvaliteedi saavutamiseks neli korda selgem kui tavaline HD. Mõeldud täiustatud graafika kuvamiseks laiel ekraanil, pakub WQHD + hämmastavaid 3840 x 1600 piksleid.
HDR10    
Sisu loojate visiooni profiilide realiseerimiseks sobib see monitor tööstusharu standardile vastava HDR10 kõrge dünaamilise ulatusega, toetatud konkreetsetele värvidele ja heledustasemeidele, mis ületavad tavaliste kuvarite nähtusi.
IPS sRGB-ga 99% (tüüp)
See monitor, mille sRGB spektri katvus on 99%, on suurepärane lahendus fotograafidele, graafilistele disaineritele või kõigile, kes otsivad ülitäpseid värve.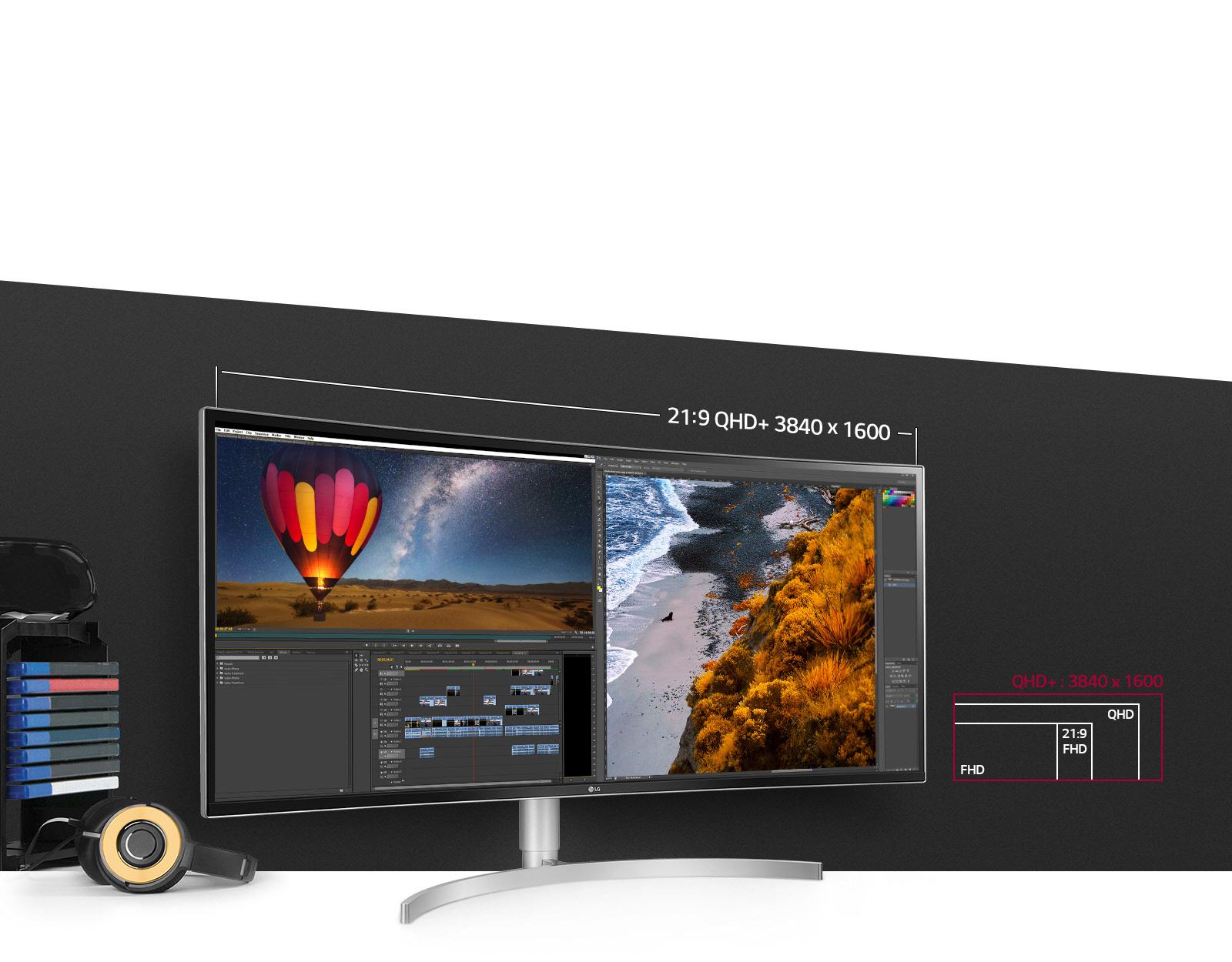 21: 9 UltraWide® ekraan
UltraWide 21: 9 kuvasuhe muudab filmid ja mängud kaasahaaravamaks kui kunagi varem. Kas peate ka natuke tööd tegema? Kogu see UltraWide kinnisvara muudab mitme dokumendi korraga vaatamise lihtsaks, nii et te ei pea nende vahel edasi-tagasi lehitsema.


Praktiliselt piirideta disain
Selle õhukese ekraani kolmel küljel asuv üliõhuke raam pakub praktiliselt ääristeta visuaalse kogemuse, ilma et see häiriks täpset ja uhket pilti. Klanitud täiendus igale töölauale.
USB Type-C ™
Uue põlvkonna mugavuse tagamiseks võimaldavad USB Type-C ™ pordid 4K videot kuvada, andmeedastust ja sülearvuti / mobiilseadme laadimist korraga ühe kaabli abil. USB Type-C ™ abil saate vähendada juhtmete segadust ja suurendada efektiivsust.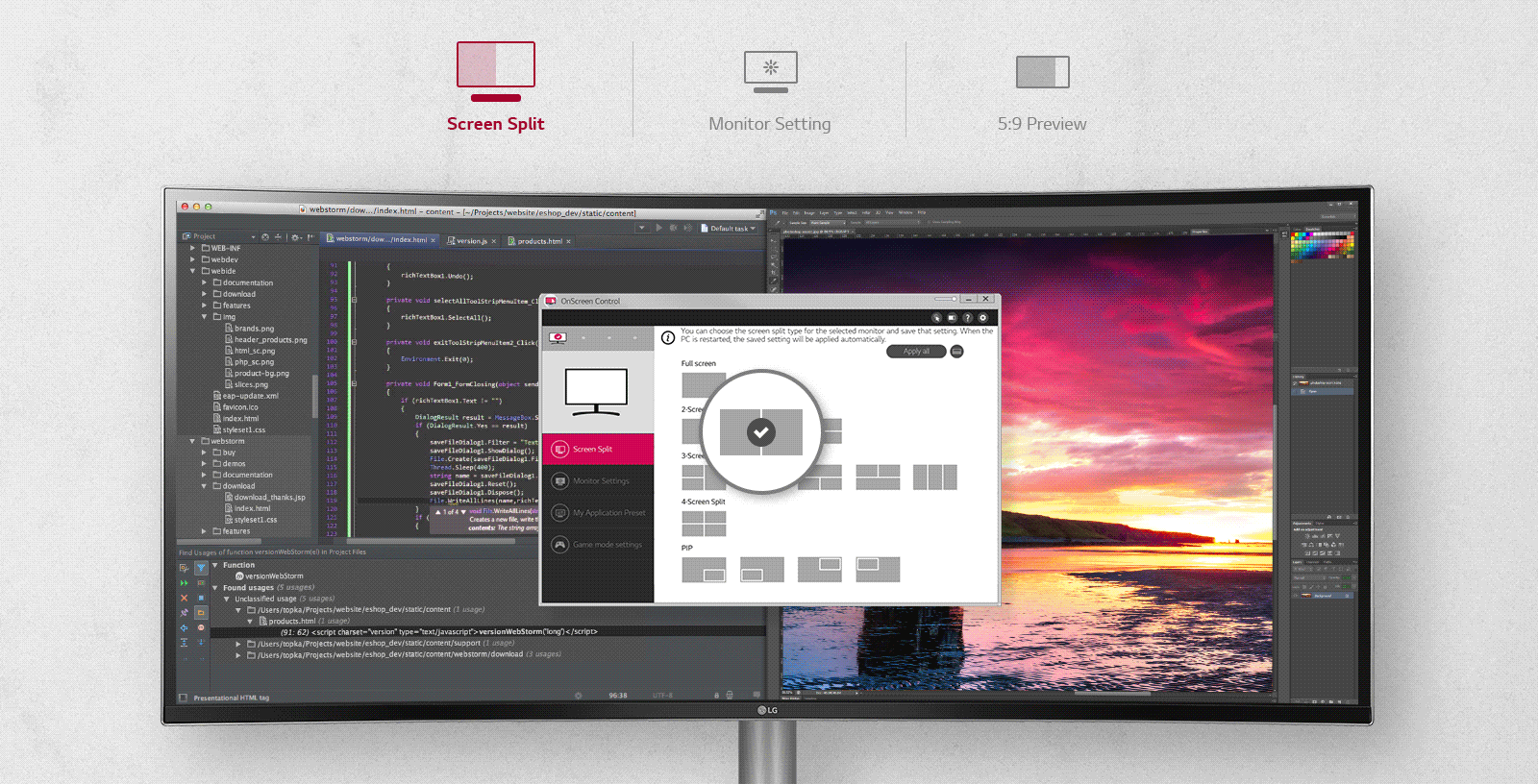 Ekraani juhtimine
Ekraanikontroll paneb hulga olulisi monitori seadeid käepärasesse aknasse, et kiirelt ja hõlpsalt juurde pääseda. Helitugevust, heledust, pildirežiimi eelseadistusi, Screen Split 2.0 ja Dual Controller ning palju muud saab nüüd monitori kõvaklahvide asemel reguleerida vaid mõne hiireklõpsuga.
Ergonoomiline alus
LG premium-monitoride klanitud kujundust rõhutab ArcLine'i alus. Aluse sujuv kõver tagab stabiilsuse, tagades töökindluse elegantse puudutusega.
Esimesed pildit on illustratiivsed!
Seisukord: UUS! Pakend on tolmune kuna kaua laos seisnud, toodet kuidagi ei mõjuta!
Poe hind:~ 1399 EUR.
Järeltulemisega - Tallinn, kulleriga (kui ise tellite), pakiautomaat (kui on lisatud kuulutuses).


NB!
Lõplik hind sisaldab käibemaksu! Kui soovite arvet firma nimele, palume saata firma andmed enne kui tasute ostu eest ja kinnitate transpordi! 
Selleks, et ühe pakina võidetud esemed kätte saada - palume valida mõnel oksjonil pakiautomaat ja muud ostud - "Järeletulemisega"
Kui kaubaga esineb mingi probleem - palume avada pretensiooni, ning kirjeldada probleemi pretensioonis. Samuti enne negatiivse tagasiside jätmist palume võtta meiega ühendust olukorda lahendamiseks. Meie eesmärk on, et iga meie klient jääks rahule võidetud oksjoniga ja tuleks tagasi osalema ja võitma uuesti.
Ostjal on õigus ilma põhjust nimetamata 14 päeva jooksul keelduda kaubast, kui seda ei ole kasutatud, rikutud või selle väljanägemine ei ole oluliselt muutunud, see tähendab, et kauba või selle pakendi väljanägemisele on tehtud ainult sellised muudatused, mis olid vajalikud saadud kaubaga tutvumiseks. Kauba tagastamisel vastutab Ostja kauba väärtuse vähenemise eest, kui see on tekkinud toimingute tõttu, mis ei olnud vajalikud kauba laadi, omaduste ja toimimise kindlaks tegemiseks. Mõlema suuna postikulu kandjaks on Ostja.
Tagastada kauba on võimalik 14 päeva jooksul hetkest, kui ostja saab kauba füüsiliselt kätte. 
Questions to seller
Only answered questions are visible to all users.
Olen huvitatud. kui ostan ja selgub et UUS ei tähenda 100% töökorras ja on defektidega, siis on mull õigust tagastada ja saada raha tagasi

Toode on UUS ning täiesti töökorras!

Kas UUS tähendab et 100% töökorras ja ilma defektita? Kui jääb vastamata, siis on toode 100% töökorras.

Toode on UUS ning täiesti töökorras!