Auction is ended or not active
Auction is ended or not active
Final price:

80.01

EUR

Extending closure:
5 minutes
Starting time:
Wed 01.12.2021 21:00:00
Closing time:
Wed 08.12.2021 21:00:00
Viewed:
360
Last bidder:
Frode
Tallinn, Harjumaa, Harjumaa, Eesti
Item condition:
used
Location:
Tallinn, Harjumaa, Harjumaa, Eesti
Quantity:
1
Return:
I agree to take back the item within 14 days if it is not suitable for the buyer. The buyer pays all postage. The item must be in the same condition and condition as at the time of sale.

Abi

Payment:
in cash, by deposit transfer, by transfer from Osta.ee e-account
OSTA CREDIT 200€ €/ per month
see more
Seller:
sinu2499.3%positive feedback view user's e-store
Nanoleaf Shapes Hexagons Nutivalgusti stardikomplekt - 5 paneeli
Shapes Hexagon LED valguspaneelide abiga saad luua uskumatult vahvaid mustreid oma kodus või kontoris. Ühenda LED paneelid omavahel just nii nagu soovid ja kinnita need komplektis olevate abivahenditega seinale, lakke või mööbli külge.

• Muusika sünkroniseerimine valgustusega
• RGBW LED paneelid - 16,7M värvi
• Toetab järgmiseid tehnoloogiaid: Apple Home, Google Assistant, Amazon Alexa, IFTTT ja SmartThings
• Puutetundlik juhtimine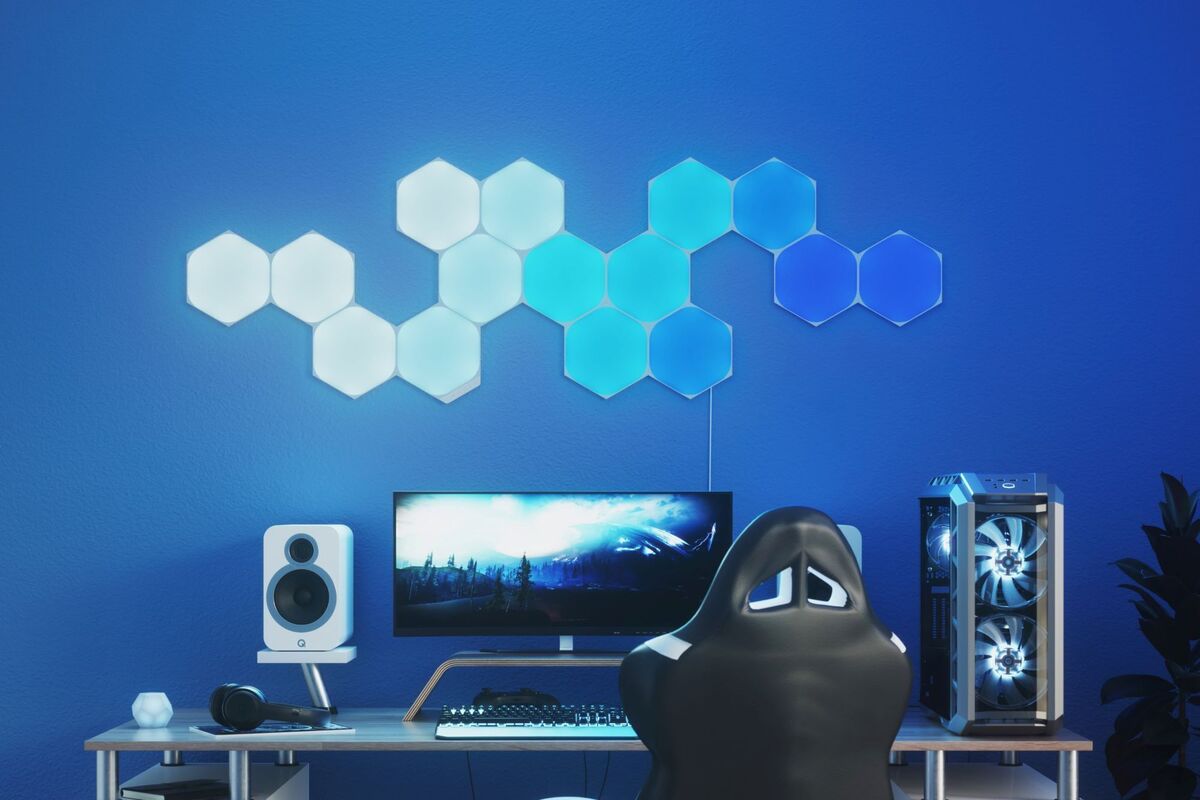 Tõeliselt piiramatu kohandamine
Looge igas ruumis kaunis sümmeetria või saage täiesti abstraktne – valik on teie. Connect+ tehnoloogiaga kõigis Nanoleaf Shapes toodetes saate kombineerida erinevaid kujundeid vapustavaks heledaks mosaiigiks.

Muusika visualiseerija
Vaadake, kuidas teie muusika ellu ärkab.
Muudab teie lemmiklood värvide ja valguse tantsulisteks sümfooniateks. Proovige Pop Rocks Rhythm Scene'i ja vaadake, kuidas teie tuled liiguvad rütmis.

Puutejuhtimine
reageerib teie puudutusele
Kella valguspaneelid reageerivad dünaamiliselt teie puudutusele, juhttulesid või isegi interaktiivseid mänge. Proovige Highlight Motioni, et saada vapustav lainetusefekt.

Ekraanipeegli
meelelahutus väljaspool ekraani
Ekraani värvid peegelduvad teie paneelidel, et pakkuda kaasahaaravat kogemust. Kasutage režiimi Match järgmise taseme filmiõhtute ja mänguseansside jaoks.


Kombineerige kujundeid
Moodulpaneelid, mis on loodud töötama koos teiste kujunditega, et luua valgustusmosaiike.

16 miljonit+ värvi
Looge lemmikvärvide või valge varjundiga igaks sündmuseks õige õhkkond.

Puutetundlikud kogemused
Juhtige tulesid või mängige puutemänge. Proovige HomeKiti seadmete aktiveerimiseks valikut Touch Actions.

Muusika visualiseerija
Rütmi funktsiooniga tantsib teie meistriteos teie lemmikmuusika või -helide saatel.

LayoutDetect™
Eksklusiivne tehnoloogia, mis võimaldab teie paneeli paigutusel põhinevaid intelligentseid värvianimatsioone .

Lihtne seadistamine
Kinnitage paneelid kaasasoleva kahepoolse kinnitusteibiga siledale pinnale.
Esimesed pildid on illustratiivsed! Kaasa tuleb kõik mis on piltidel!
Seisukord: Väga Hea! Ise valgusti paneelid on täiesti töökorras, kuid controller (ühendus moodul) ei tööta korrektselt - võib natuke korrektselt tööta ja ühendada, ülejäänud kogu aeg teeb reboot ja ei reageeri nupu vajutamisele. Controllerid on võimalus eraldi osta nanoleaf veebil.
Poe hind:~ 179.90 EUR.
Järeltulemisega - Tallinn, kulleriga (kui ise tellite), pakiautomaat (kui on lisatud kuulutuses).


NB!
Lõplik hind sisaldab käibemaksu! Kui soovite arvet firma nimele, palume saata firma andmed enne kui tasute ostu eest ja kinnitate transpordi! 
Selleks, et ühe pakina võidetud esemed kätte saada - palume valida mõnel oksjonil pakiautomaat ja muud ostud - "Järeletulemisega"
Kui kaubaga esineb mingi probleem - palume avada pretensiooni, ning kirjeldada probleemi pretensioonis. Samuti enne negatiivse tagasiside jätmist palume võtta meiega ühendust olukorda lahendamiseks. Meie eesmärk on, et iga meie klient jääks rahule võidetud oksjoniga ja tuleks tagasi osalema ja võitma uuesti.
Ostjal on õigus ilma põhjust nimetamata 14 päeva jooksul keelduda kaubast, kui seda ei ole kasutatud, rikutud või selle väljanägemine ei ole oluliselt muutunud, see tähendab, et kauba või selle pakendi väljanägemisele on tehtud ainult sellised muudatused, mis olid vajalikud saadud kaubaga tutvumiseks. Kauba tagastamisel vastutab Ostja kauba väärtuse vähenemise eest, kui see on tekkinud toimingute tõttu, mis ei olnud vajalikud kauba laadi, omaduste ja toimimise kindlaks tegemiseks. Mõlema suuna postikulu kandjaks on Ostja.
Tagastada kauba on võimalik 14 päeva jooksul hetkest, kui ostja saab kauba füüsiliselt kätte. 
Questions to seller
Only answered questions are visible to all users.