Auction is ended or not active
Auction is ended or not active
Final price:

16.00

EUR

Extending closure:
5 minutes
Starting time:
Fri 11.06.2021 21:00:00
Closing time:
Mon 21.06.2021 21:03:30
Viewed:
82
Last bidder:
nikonor
Tallinn, Harjumaa, Harjumaa, Eesti
| | |
| --- | --- |
| Item condition: | used |
| Location: | Tallinn, Harjumaa, Harjumaa, Eesti |
| Quantity: | 1 |
| Payment: | in cash, by deposit transfer, by transfer from Osta.ee e-account |
| Seller: | sinu2499.5% / 46012 / view user's e-store |
TimeMoto süsteem, mis kasutab nii RFID-kaarte kui ka sõrmejälgede tehnoloogiat, töötab nii arvutitarkvara kui pilvetehnoloogiaga. See seade annab inimesele kiiresti oma kaardi või sõrmejälje järgi loa, mis võimaldab teil hõlpsalt jälgida töötunde ja muid. andmed. Ühekordselt salvestatakse kuni 10 000 aruannet. Lisaks Cloudi toe ostmisele saate seadistada, genereerida aruandeid, hallata oma seadet ja täita muid funktsioone kaugseadmete abil ühest seadmest. 
PAINDLIK, TURVALINE JA TÄPNE AJAREGISTREERIMINE

 

Kogege TimeMoto TM-626 abil paindlikku ja turvalist kella. Tänu integreeritud sõrmejälgede ja RFID-lugejale saavad kasutajad hõlpsalt ja turvaliselt registreerida oma tööaja oma sõrmejälje või isikliku RFID-märgiga. TimeMoto TM-626 sobib kuni 200 kasutajale ja suudab salvestada kuni 10 000 ajakirja. Ideaalne selleks, kui soovite registreeruda ja aega tõhusamalt hallata.


 
JÕU PÕHJAL

Optimaalse paindlikkuse saavutamiseks ühendage oma TimeMoto seade TimeMoto Cloudiga. Meie intelligentne pilvelahendus pakub teile täielikku ülevaadet ja kontrolli ajahalduse üle ühes lihtsas rakenduses. Vaid mõne lihtsa klõpsuga saate jälgida kõiki oma TimeMoto seadme kellaandmeid, redigeerida ja aruandeid reaalajas vaadata igal ajal ja kus iganes te ka pole. Looge oma meeskonnale üksikasjalikud ajakavad ja hallake nende ületunde, puudumisi, puhkusetaotlusi ja muud.

Kõik TimeMoto seadmed sisaldavad TimeMoto Cloud Free'i plaani ja 30-päevast TimeMoto Cloud Plus prooviversiooni, nii et saate enne oma vajadustele kõige paremini sobiva plaani valimist kogeda kõiki funktsioone.
FUNKTSIONAALNE DISAIN,
ILUS VIIMISTLUS

Suurendage oma ettevõtte sissepääsu või seina klanitud, kuid vastupidava TimeMoto TM-626 abil. Selle keskmise suurusega 2,8-tollise TFT-ekraaniga kuvatakse kogu teave ülitäpselt. Naudi TimeMoto kaunilt kujundatud ja hõlpsasti kasutatava intuitiivse liidese ajakella kasutamist. Sisestage projektikoodid puutetundlike klahvide abil. Ja teie töötajate käeulatuses on isiklikud kellaajad ja kogusummad.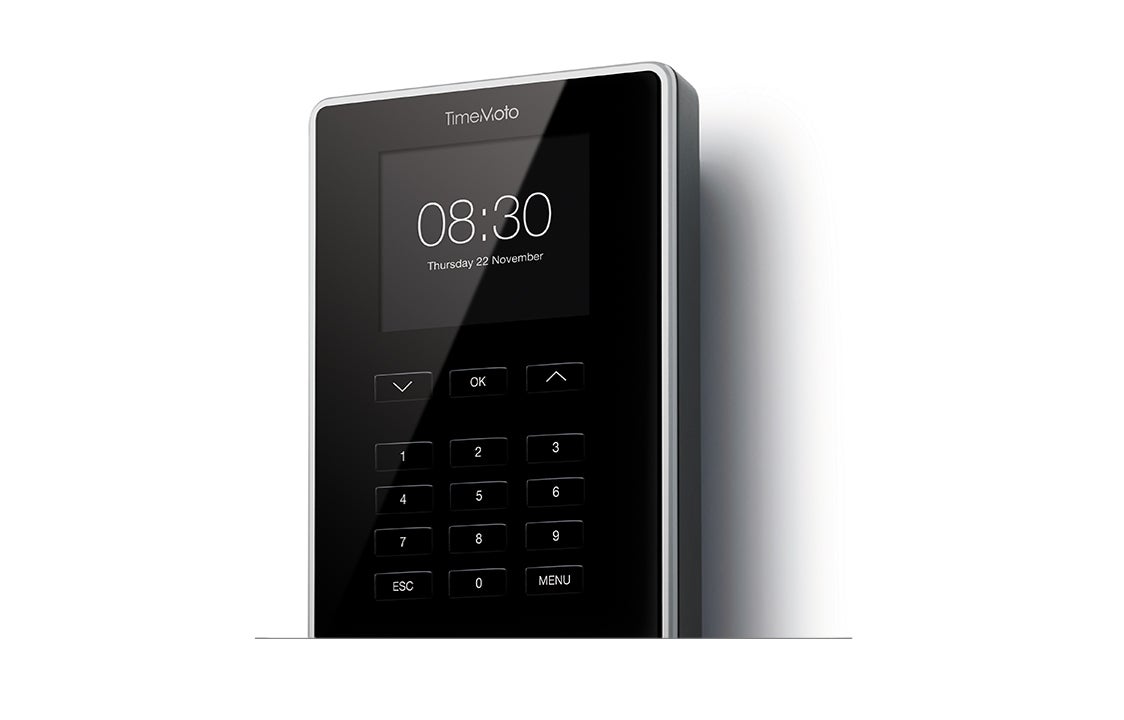 OPTIMAALNE PAINDLIKKUS

Töötajad saavad valida, kuidas nad tahavad kella sisse lülitada: RFID-märk, sõrmejälgede skaneerimine või PIN-koodi tuvastamine. TimeMoto TM-626 suhtleb sujuvalt TimeMoto Cloudiga. Teil on alati kiire ja täpne ülevaade töötajate ajast ja kohalolekust.
TÄIUSTATUD IDENTIFITSEERIMISTEHNOLOOGIA VASTAVALT GDPR-LE

Registreerige töötajate olemasolu ohutult ja konfigureerige GDPR. Kuna RFID-d, tihvti või sõrmejälge kasutavate identifitseerimisvõimaluste vahel on valikuvabadus, vastavad TimeMoto ajakellad täielikult Euroopa õigusaktidele.

Lisaks tagavad täiustatud 500 dpi sõrmejäljeandur, kontaktivaba RFID-lugeja ja andmete krüptimine kasutaja usaldusväärse ja kohese kinnituse.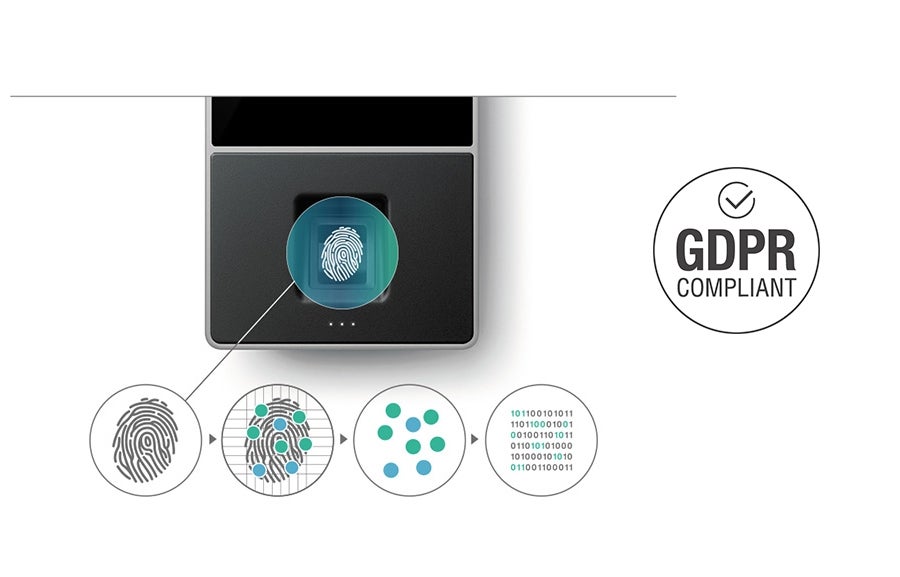 PROJEKTIPÕHINE KELL

Sisestage projekti koodid ja kontrollige kellaaegu ja kogusummasid otse oma seadmest. Sisseehitatud WiFi ja "push" tehnoloogia saadavad reaalajas andmeid TimeMoto Cloudi. Juurdepääs andmetele ja nende haldamine mis tahes asukohast. Lisaks hetkekäsitlusele tööjõukuludest saavad TimeMoto Cloudi kasutajad vaadata oma konkreetseid üksikprojekte.
NUTIKAS KELL

Meie nutika kella funktsioon hoiab ära vead. Kuna TimeMoto terminalid tunnevad ära kõige uuema kellaaja, siis välditakse juhuslikke vigu kaks korda kellade tegemisel. TimeMoto kasutamisel on teie aja- ja kohalolekuandmed alati õiged.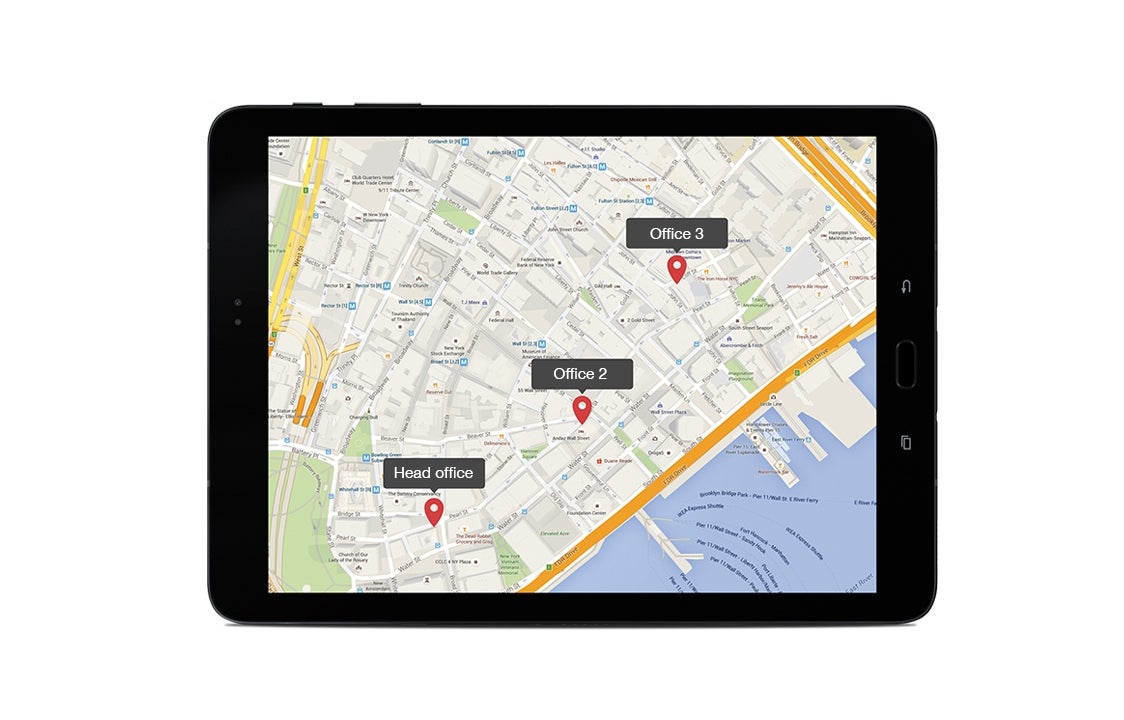 TÄIELIK LAHENDUS, MIS KASVAB TEIGA

Ühendage erinevad terminalid mitmes kohas või ühes kontoris. TimeMoto terviklahendus võimaldab teil installida TimeMoto alati, kui soovite terminalide või ettevõtte asukohtade arvu laiendada. Täieliku paindlikkuse saavutamiseks kasutage meie iOS- ja Android-mobiilseadmete rakendusi koos TimeMoto Cloudiga.
MINNA AJAL OSALEMISE KOHTA

Juurdepääs pilvele olenemata teie asukohast või mis tahes seadmest, mida te kasutate. TimeMoto töötab sujuvalt kõigi brauseritega, et saaksite hallata ajaarvamist sülearvuti, tahvelarvuti ja mobiiltelefoni kaudu.

Interneti-ühendus on kõik, mida vajate. Maksimaalse mugavuse huvides installige Androidile või iOS-ile lihtsalt tasuta rakendus TimeMoto.

 

 
KIIRET, TURVALIST JA TÄPSET

Sõltumata sellest, kus te asute ja mis seadet kasutate, kulub sisse- ja väljalülitamiseks vaid sekundeid. Valige projekt või projekti kood ja lisage soovi korral kommentaar, seejärel vajutage lihtsalt nuppu. Kui kaotate Interneti-ühenduse, salvestatakse kõik andmed kohapeal, kuni olete uuesti võrgus. Seejärel krüptitakse andmed turvaliselt ja surutakse automaatselt pilve. Võite loota reaalajas täpsusele. Teie andmed on turvalised ja alati kättesaadavad.
24/7 JUURDEPÄÄSETAVAD REAALAEGA ANDMED

Juurdepääsuga pilvele saate vaadata reaalajas personali kohalolekut, hallata ajakavasid ja luua aruandeid tööl, kodus või reisil. Ideaalne lahendus juhendajatele või kasutajatele, kes on sageli teel või kontorist eemal.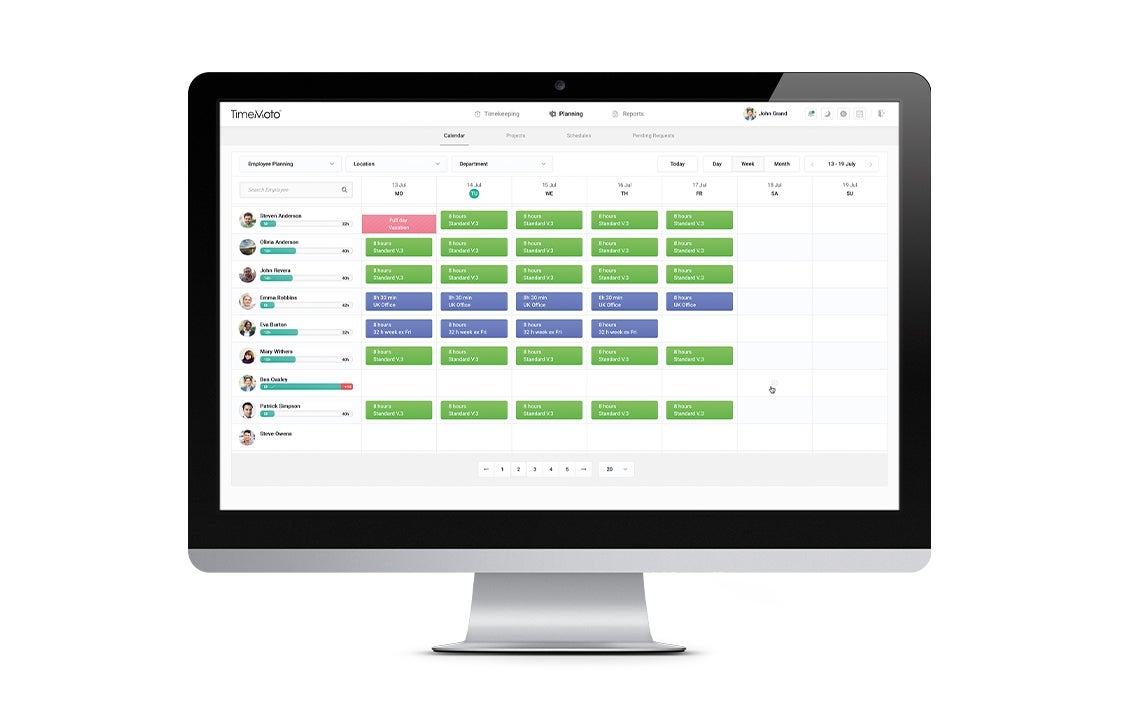 TÄPSEMA AJAKAVA AJAKOHA

Kas otsite laiendatud funktsioonidega aardekogu? TimeMoto Cloudil on kõik olemas. Näited tööriistadest, milles see süsteem on varustatud: (individuaalsete) vahetuste 24-tunnine ajastamine; töötajate saabumise ja lahkumise teated väljaspool tavapärast tööaega; töötaja individuaalne aastase puhkuse ja tööaja jälgimine; ületundide vähendamine graafikute tasakaalustamise kaudu; ja meie pühade erifunktsiooniga tõhusam ajakava.
LIHTNE SEADISTAMINE JA KASUTAMINE

Paigaldage oma TM-626 kaasasoleva seinakinnitusega. Seejärel ühendage see oma LAN- või Wi-Fi-võrguga. Üksikasjaliku häälestusviisardi abil saate kiiresti töötada. Selge ekraan ja intuitiivne liides muudavad selle kasutamise ülimalt lihtsaks.
Esimene pilt on illustratiivne! Kaasa tuleb kõik mis on piltidel!
Seisukord: Vähekasutatud! Sisselülitamisel jääb seisma ja edasi mitte midagi ei tee - viimased pildid!
Poe hind:~ 589.99 EUR.
Järeltulemisega - Tallinn, kulleriga (kui ise tellite), pakiautomaat (kui on lisatud kuulutuses).


NB!
Lõplik hind sisaldab käibemaksu! Kui soovite arvet firma nimele, palume saata firma andmed enne kui tasute ostu eest ja kinnitate transpordi! 
Selleks, et ühe pakina võidetud esemed kätte saada - palume valida mõnel oksjonil pakiautomaat ja muud ostud - "Järeletulemisega"
Kui kaubaga esineb mingi probleem - palume avada pretensiooni, ning kirjeldada probleemi pretensioonis. Samuti enne negatiivse tagasiside jätmist palume võtta meiega ühendust olukorda lahendamiseks. Meie eesmärk on, et iga meie klient jääks rahule võidetud oksjoniga ja tuleks tagasi osalema ja võitma uuesti.
Ostjal on õigus ilma põhjust nimetamata 14 päeva jooksul keelduda kaubast, kui seda ei ole kasutatud, rikutud või selle väljanägemine ei ole oluliselt muutunud, see tähendab, et kauba või selle pakendi väljanägemisele on tehtud ainult sellised muudatused, mis olid vajalikud saadud kaubaga tutvumiseks. Kauba tagastamisel vastutab Ostja kauba väärtuse vähenemise eest, kui see on tekkinud toimingute tõttu, mis ei olnud vajalikud kauba laadi, omaduste ja toimimise kindlaks tegemiseks. Mõlema suuna postikulu kandjaks on Ostja.
Tagastada kauba on võimalik 14 päeva jooksul hetkest, kui ostja saab kauba füüsiliselt kätte. 
Questions to seller
Only answered questions are visible to all users.