You can buy this item even if you don't yet have an Osta.ee user account
Courier: 4.50 EUR
Pickup
Agreement with seller

Abi
Item condition:
new
Location:
Pärnu, Pärnumaa, Eesti
Size:
S
:
Maksi
Quantity:
1
Delivery time:
3 days
Shipping/Delivery:

DPD Pickup locker/parcel shop

2.25 EUR

(S)

Courier:

4.50 EUR


Pickup
Agreement with seller

Abi



Return:
I agree to take back the item within 14 days, if it is not suitable for the buyer. Buyer pays all shipping costs. Item must be unused and in original packaging with tags

Abi

Payment:
by bank transfer, by transfer from Osta.ee e-account
Seller:
TraderOÜ99.7% / 5147 / view user's e-store
Värv: must
Suurus: S
-----------------
Imekauns, elegantne ja pidulik õhtukleit
Kleidi ülaosa kaunistab ilus pits ja luksuslik pärlite, kivikeste ja litritega tikand.
Alaosa vabalt langev, all siidjas vooder, peal õhuline riie (100% polüester)
Seljaosal veniv kumminiitidega osa, mis tagab kleidi ideaalse istuvuse.
Ülaselg kelmikalt avatud lõikega.
Rinnakorv polsterdustega ja libisemisvastase äärega, mis võimaldab kleiti kanda ka ilma rinnahoidjata.
Suurus S - pikkus 146cm, rind 70-90cm
Piltidel seljas suurus S ja modell on 170cm pikk.
Hetkel olemas:
Punane: otsas
Valge: otsas
Must: S
Sinine: otsas
Laokood: FD1197
-------------------------------------------------------------------------------------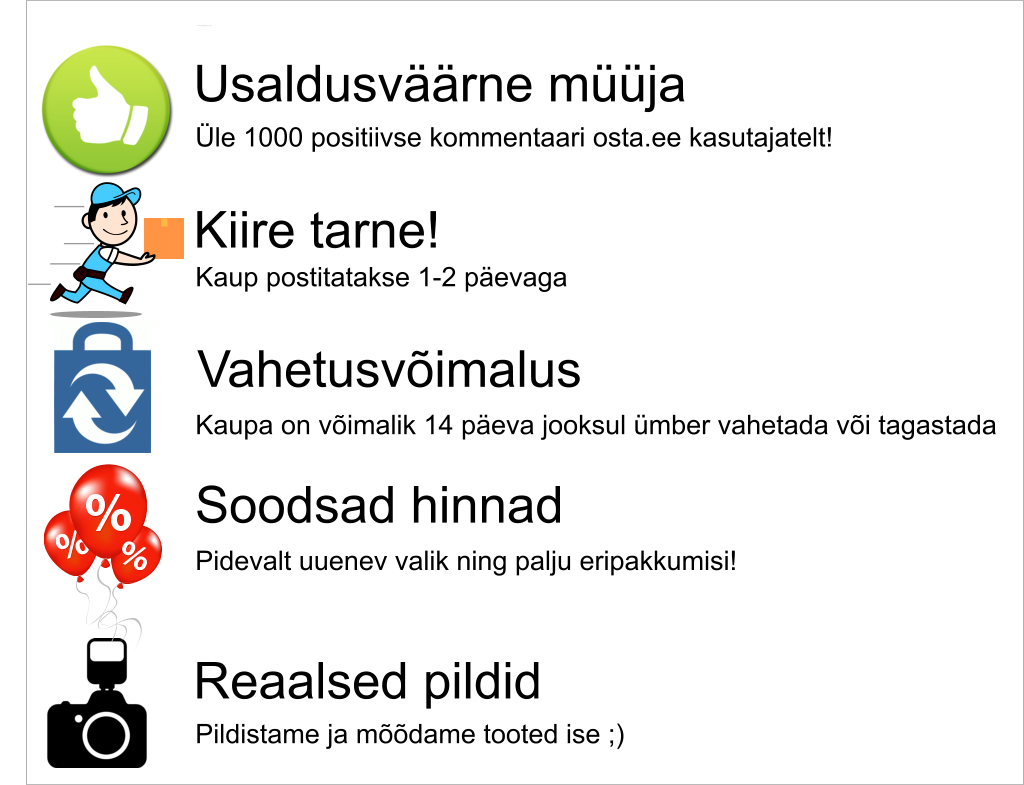 NB! Kuulutuses olevad pildid on Trader OÜ (fashiondreams.eu) omand ning nende loata kasutamine on keelatud!
Vaata meie teisi e-poe kaupasid SIIT
Ostes mitu toodet korraga säästad postikuludelt!
Ise saab järgi tulla ning soovi korral ka proovida meie esinduspoes Pärnu Keskuse I korrusel (kontserdimaja poolse sissepääsu juures)
Questions to seller
Only answered questions are visible to all users.
Tere.Kas L suurust sinist või tuleb juurde?Ja kas saab Lsuuruse mõõdud?

Kahjuks seda mudelit L suurust juurde ei tule. Jälgige meie ametliku kodulehekülge, sest kindlasti on tulemas lattu ka pikki kleite.
Please log in to ask questions
login